Digital Color Printing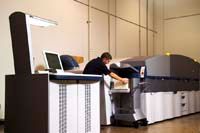 Technology has really changed the way people print. Today you can get near conventional print quality without having to mass produce your materials. Colors are vivid and consistent from project to project making digital print on demand a real option for smaller quantities. Digital Marketing and Print is a pioneer in the digital color arena - having operated virtually EVERY production digital technology manufactured gives us a real and unbiased perspective on what looks and wears the best. Our calibration standards are second to none so the integrity of your piece will look like it was designed to and remain that way from run to run.
And for true impact - try Digital's variable printing option to make each printed piece unique or personalized. We're experts at coverting static documents into attention grabbing, result getting, difference making - personalized communication pieces.
Put Digital to work on your next project and see the difference Digital Color can make!
- Presentations
- Marketing Information
- Flyers/Brochures
- Meeting Handouts
- Newsletters
- Posters
- Point of Purchase Displays
- Proposals
- Equipment Operating Instructions
- Agendas/Calendars
- Banners
- Transparencies
- Reports